Our Passion for Design Is Reflected In Our Students
At the David-Curtis School of Floral Design, we always welcome comments from our students, telling us how they view us and the quality of our instruction we provide. We would love to receive your feedback, both positive and negative, so we can continue to improve and offer you the kind of learning experience you deserve.
Eva Sól Jakobsdóttir – Iceland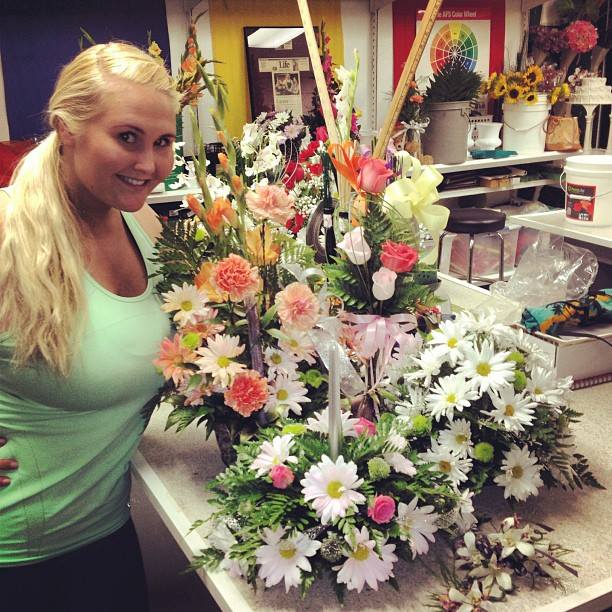 My experience at the David Curtis School of Floral Design is one that will never be forgotten. I come from Iceland and I work as a Airline Dispatcher for Icelandair so this experience was not going to be used to open a flower shop. I had my Summer vacation and I did not know what to do during that time. My friend was going to attend this class and I decided to join her. I really wanted to do something out of the box and this was the perfect thing to do. My surprise attending the David Curtis School of Floral Design was one of the best decisions I had ever made. Each day Joe presented many new and interesting topics and was so patient and nice. I was taught the correct way to communicate with clients during wedding and funeral consultations, the proper way to care for fresh cut flowers. Joe showed us how to create different styles of flower arrangements. We were only four students in my class so that was amazing to have time to ask all the questions you wanted to get answer to. English is not my first language and Joe was always there assisting me if I did not understand. I loved going to school every day and all the project were so much fun. My favorite project was the flower crown ! After finishing school I have worked on weddings and table arrangements but I keep this as my hobby and I love it ! Joe is amazing teacher and the nicest guy in Ohio!
Travis L Fister – Olde Towne Florist – Columbus, Ohio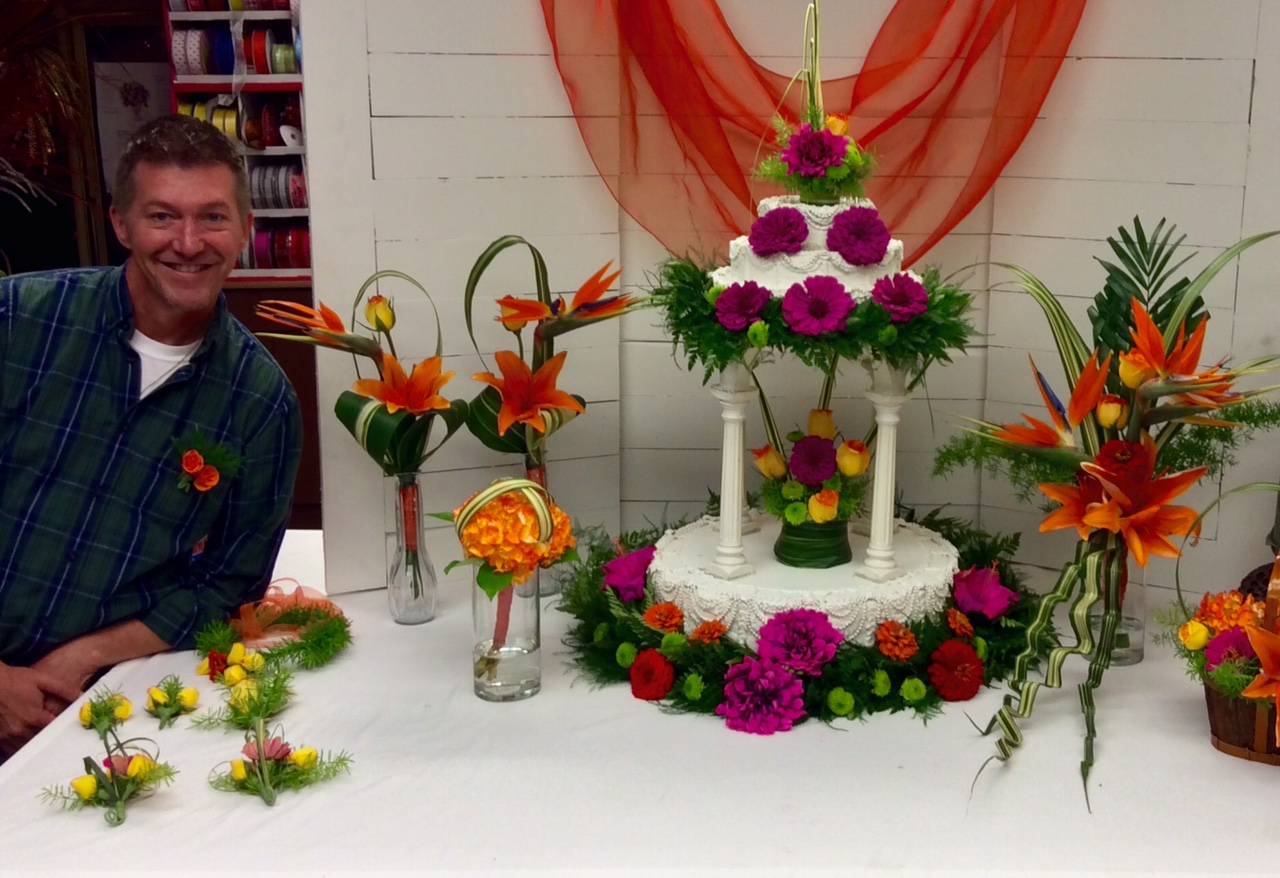 For the longest time I have wanted to open a flower shop. I had helped a friend in his flower shop and seeing people's faces light up with every delivery was amazing. One day I was told that a store space was coming available in my neighborhood. I decided to go for it. I talked to my friend who I use to help and he said you need to go to school. There is more to being a florist then making arrangements. You have to learn the business. I had searched the web looking for a floral school. Most were just day classes and not in depth enough for what I needed. My friend directed me to the David Curtis school of Floral Design. I called and Spoke to Joe about the school. Joe told me about the school but what was more important was Joe's question as to why I wanted to attended the school. The David Curtis school of floral design is more than learning to make arrangement's. It is a school to learn to be a florist. I learned how to care for flowers, make arrangement's, pricing and much more. The instructors Joe and Keith did more than just instruct me. Joe and Keith helped me reach my goals I needed from the school. Once again I made faces light up with every arrangement I made in class and gave to family and friends. People were asking me to make arrangement's before I was even finished with the school. In fact I did the arrangement's for friend's wedding. Joe went out of his way to make sure my arrangements were a success. I can't thank Joe and Keith enough for giving me a new career in the floral industry. For the first time I am doing something I love to do. I walked away from the David Curtis school of floral design with the confidence and knowledge I needed to be a successful florist. I highly recommend the David Curtis school of floral design to anyone wanting to get into the floral industry. The personal attention they give to students is amazing!
Here are some examples of designs that Travis has created at his newly opened shop – Olde Towne Florist – Columbus, Ohio
Tammy Plunkett – Cincinnati, Ohio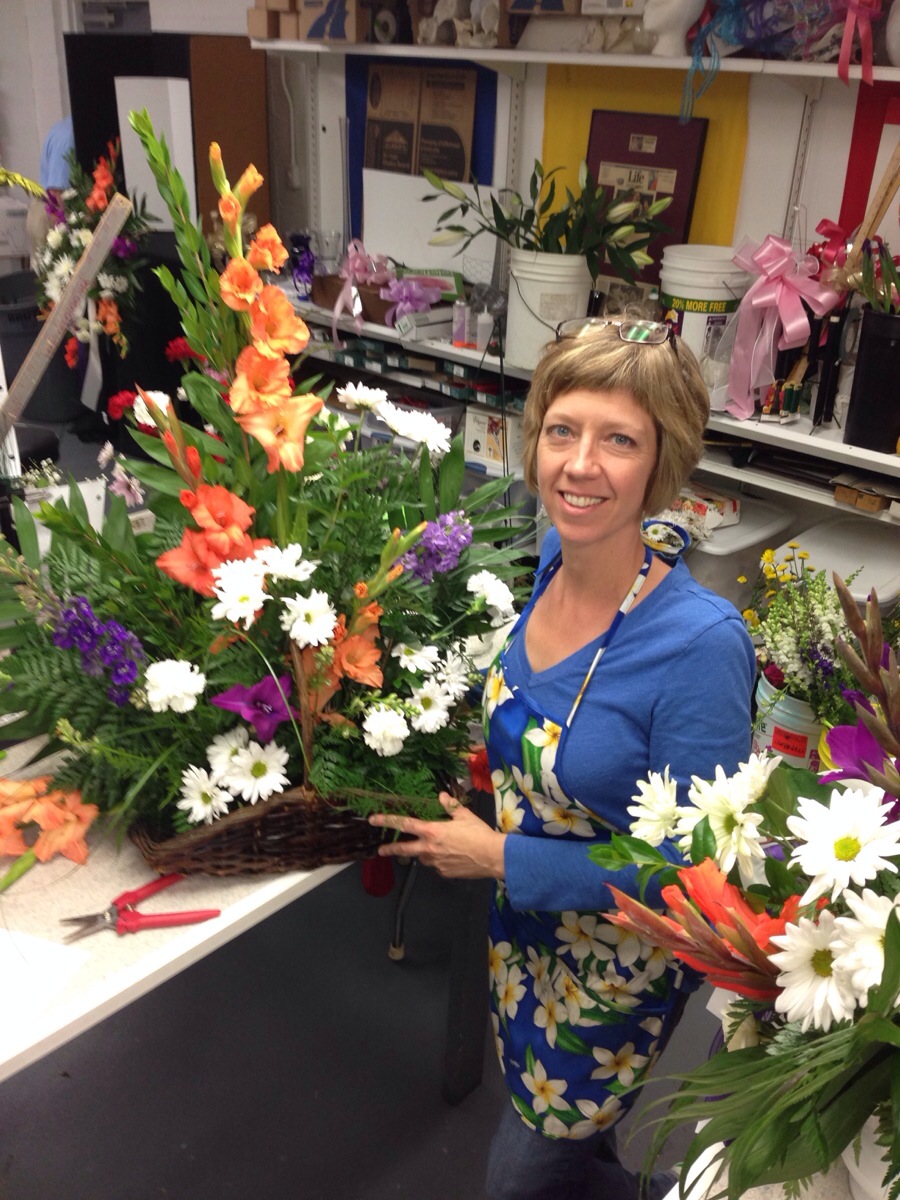 I was interested in attending a floral design school and was thrilled to find one within driving distance that is registered with the Ohio State Board of Career Colleges and Schools. The experience of attending the David Curtis School of Floral Design has exceeded my expectations. The techniques we were instructed in are superior based on very sound mechanics, quality materials, and excellent presentation from all sides of the many various types of arrangements covered in the 3 week program. I was especially pleased and impressed with our instructor Joe. He teaches best practices at an appropriate pace including regular bonus information. His instruction is presented clearly and his critiquing is kind, specific and well delivered. The extent of knowledge and talent he has is exceptional. Our class worked hard, had plenty of projects to arrange and priced our creations as well as learning flower processing, proper storage and tips. It really was a blast and was the most fun and informative educational experience I have had.
Cynthia Schumacher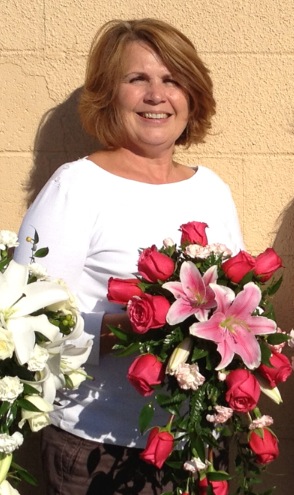 Going to David Curtis School of Floral Design was the best thing I've done for myself. It gave me the confidence that I needed, to go out and get a job as a designer in the floral business. I worked for about three years (on the phone) in a flower shop, watching the designers, thing that I could do that.
Going to this school gave me the knowledge that I needed. My first job was part time at Christmas at a florist in Dover, Ohio. I greened in centerpiece after centerpiece, vase after vase, (I finally got to put in the flowers); and I remembered all that your taught me. In January I got a call for a job in Cincinnati at Adrian Durban, I took it. The first month was nothing but odd jobs, no designing; then came Valentine's Day and I was back to greening in. But I'm happy to say, that I now make funeral flowers, big vase arrangements corsages, and other creative designs.

I would highly recommend your school, and especially Joe as the teacher. He always had an encouraging approach. Thank you so very much.
Kimberly Waters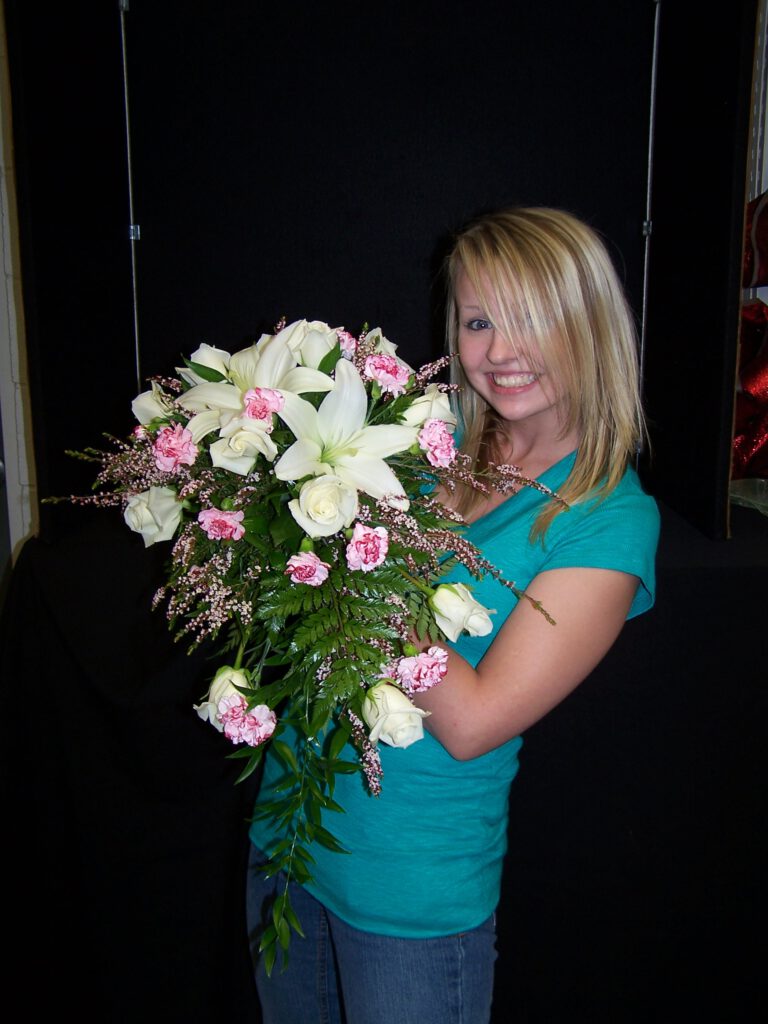 My name Kimberly and I attended Joe's class in 2010. I was 19 and currently working at a flower shop and wanted to get more experience and be able to do more things in the shop and I found out about this class online. You do not have to work at a flower shop to want to do this or to be able to do this. Some people choose to do this as part time, I do still currently design as my full time job. It just depends on how much you want to get into it. You can also just do this on the side from home, or free-lance.

I have been working at the same shop for 4 years now I'm 23 and everything Joe has taught I do every single day. Still to this day I am learning new things. This course is for, any age young or retired and just wanting something to do to take up some time.
I do believe with completing this course that any flower shop would hire you. Even with have little experience having a certificate and like I said by the end of the course you will know everything the job requires.

Experience is everything and knowing how to design it may seem very demanding but after this course you will be ready to do anything. He covers all aspects that will need to know to start you off anywhere. The more you practice the better you will be it does take time but everyone has to start off somewhere.

I really liked the class it was worth the drive and time. I drove from Cincinnati with another employee and there was a few other students attended with us. They traveled from other places and getting around the town wasn't too bad either. Everything is pretty much right there. It was a fun class and the time flew by cause you are learning so much stuff very hands on.

Thank you Joe. It was a fun course and I would recommend anyone to go to this class. I still design things the way I was taught by you. The bows was my favorite ,the way you showed us made it so much faster and way more easy. Again thank you it was great 🙂
Debbie Agnew – Bella At Home – Waynesville, Ohio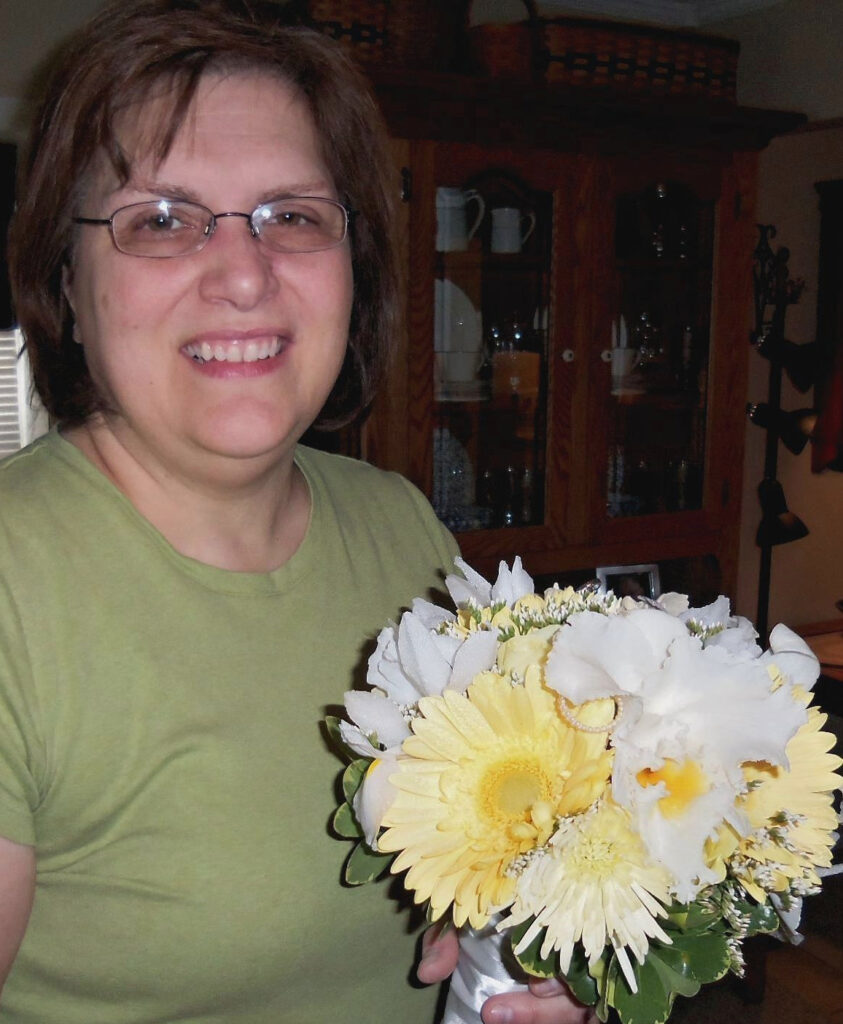 In September 2008 I attended the David-Curtis School of Floral Design. The value of the education I received there exceeded my expectations. Not only did I learn the fundamentals of floral design, I learned about the day-to-day functions of running a successful floral shop. What I appreciated most about my education at the David-Curtis School of Floral Design was the hands on experience I received. Actually working with the fresh flowers every day and making the items we were studying about in class was fundamental in my learning experience. The instructors were very knowledgeable and the key to my schooling success.

Today I am a successful business owner with my own floral and home décor store. It has been my pleasure over the last several years to have served so many customers from designing wedding bridal bouquets to making home décor items such as wreaths and arrangements. I am very thankful to the David-Curtis School of Floral Design for giving me the tools I needed to start my own business! Thank you!!!
Belinda Coleman – Thru the Garden Gate – Frankfort, Ohio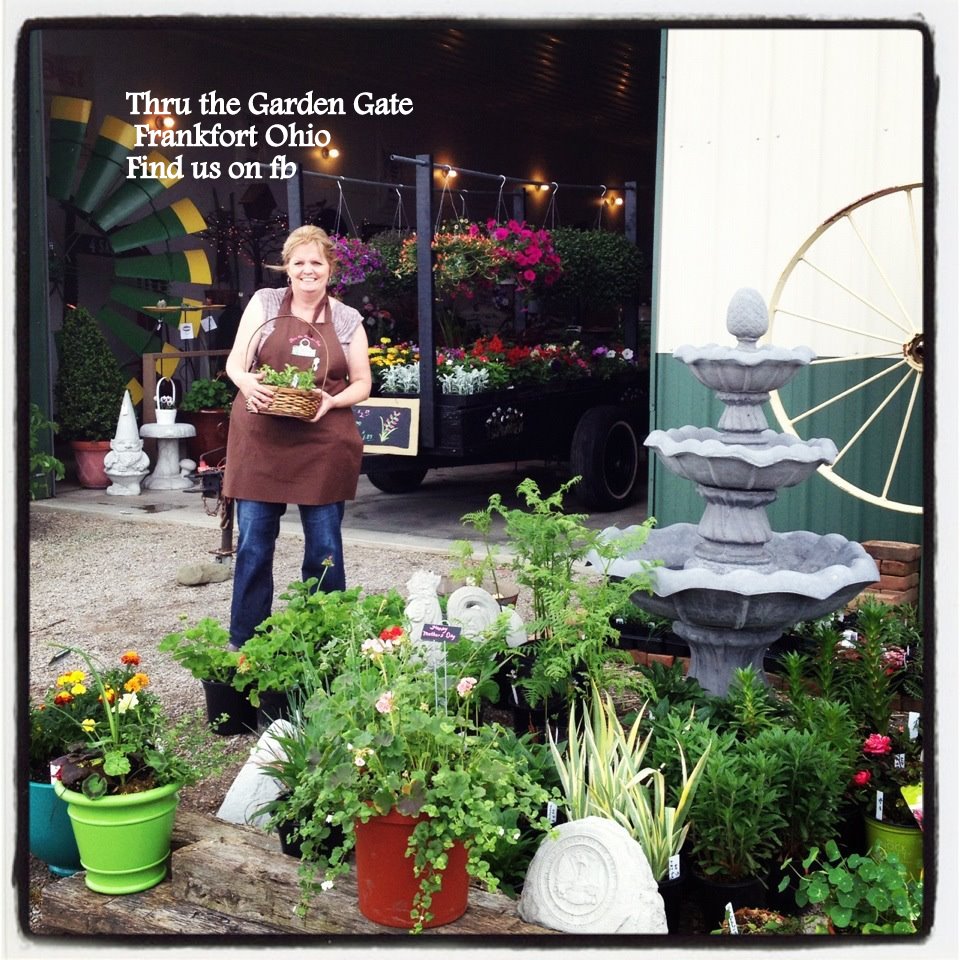 I want to thank David-Curtis School of Floral Design for a great experience. I now work for Robbins Village Florist and also have my own store Thru the Garden Gate. This is my 3rd year of business and I could not have done all of this without the training I received at David-Curtis School of Floral Design. I was shown every aspect of the floral business from floral design to management. It was a very enjoyable experience. I made lifelong friends.
Thanks Joe and all of the Centerville Florist Family.

Beccy Krenelka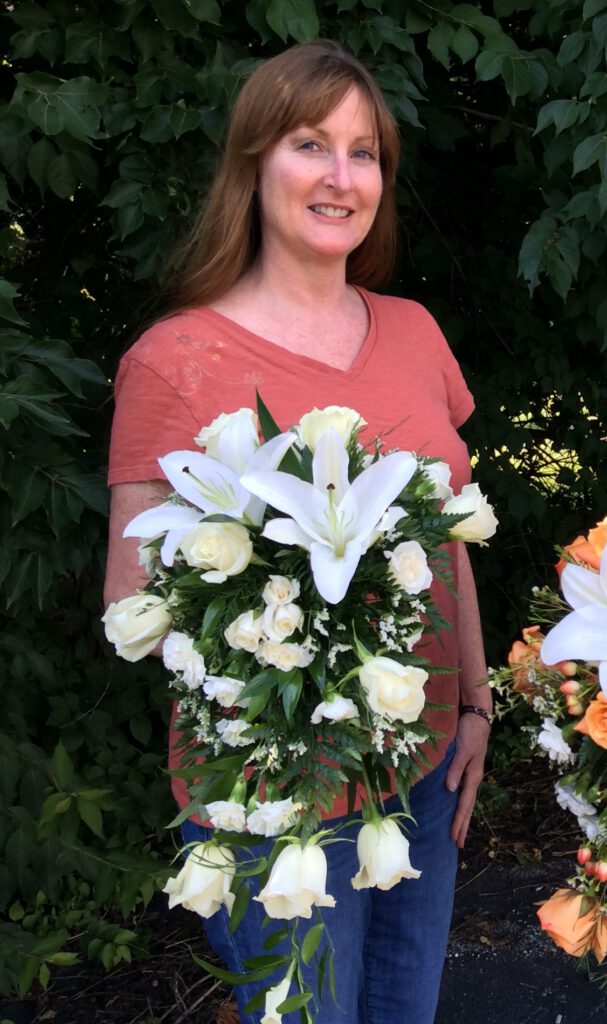 I recently graduated from the David-Curtis School of floral design and can't say enough great things about the program. It far exceeded my expectations and I would highly recommend it to anyone looking to work in the floral industry or even to people who want in depth training for personal enrichment. The hands on training was invaluable as you can practice professional techniques with fresh stock that's brought in several times a week. Joe is one of the most thorough, patient and talented instructors I have ever worked with. He has a wealth of knowledge and generously shares it all. Another advantage to the David-Curtis school is that all the training is done in the back of an operating floral shop, so you get a true picture of what it's like to work in a shop and how a shop operates. This school is worth every penny and was the foundation for launching my side home business. If you want to work in or learn more about the floral industry, this is the place to start!
Heather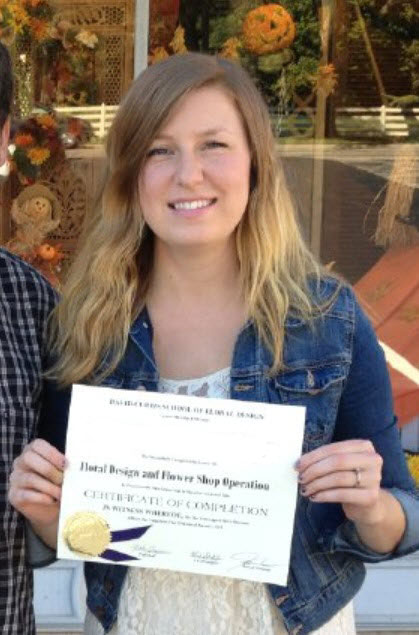 My name is Heather and I attended the David Curtis School of Floral Design in September 2013. I learned so much from this course and I am very thankful to have had the opportunity to attend! Joe is an amazing teacher. He has so much experience and he is just a wonderful person. This course gave me the jump start I needed to get a job in the floral industry and now I have plans to start my very own company! Thank you for all that you have done for me Joe! I wouldn't be where I am today without you!
Greg Patton
In 2012, my family purchased a flower shop in a small Ohio city. Although our family was fortunate to have one seasoned florist to handle design and fulfill orders, it was very intimidating to say the least. I was in immediate need of floral design skills and some basic business practices. I researched floral schools throughout the Midwest and selected the David Curtis School of Floral Design in Centerville, Ohio (near Dayton). I based my decision on several factors, such as how long the school had been in operation, the reputation of the school and the fact that the State of Ohio regulates floral design school testing standards.
I quickly found that Joe and the instructors are experts in floral design. Joe taught floral design through basic building blocks which were easy to grasp. I quickly learned to make small, medium and large arrangements for various settings and events. Each time I completed an arrangement, my confidence and design speed increased dramatically. Most important was that Joe taught me how to create floral designs with techniques used by master florists everywhere.
An important part of the school is learning the names, values and durability of each flower. A flower or greenery stem contributes to the actual cost of the arrangement and influences the final retail value. Joe provided me with a simple cost worksheet to keep track of the arrangement actual cost. I learned that the success of a floral shop can be affected by being too generous when adding flowers! Joe demonstrated that by merely changing the placement of a couple flowers in an arrangement, the design appeal can improve dramatically with no additional cost.
By the end of the second week, I had the confidence to make an arrangement look like a million dollars, but for a minimal cost. As training advanced, basic business practices and considerations were integrated into the floral design segments.
After week three, I left the school with a well rounded knowledge and experience in floral design that gave me the confidence to quote prices, provide floral suggestions and complete complex floral orders for weddings, proms, funerals, holidays, the changing seasons and any special events.
Joe's program allowed me to contribute to my family's business in a significant manner. I was able to provide some cost saving suggestions for running that business that were adopted. I also took an active role in designing arrangements and marketing the business. I even provided our senior designer with a few new floral design techniques learned in the school.
I strongly suggest you take advantage of this school, you will not be disappointed.
Lisa B. – Brookville, Ohio
"Joe is Centerville Florist." To me – his class was not really like a traditional class, he made it so enjoyable that I always looked forward to attending, even in a snow event. His professionalism with a splash of humor is a great recipe for the business and the floral school. Being so at ease in the floral industry, Joe's confidence makes it very easy to learn. If you love flowers, you'll love the class!
Amber
I learned a lot in the 3 weeks of classes. This course covers all the aspects of floral design, the basic arrangement styles, flower types and their care, how to approach a customer, whether it be a bride to be, a grieving family or just someone looking to brighten someone's day. I highly recommend this program for people wanting to get into this field. Although most flower shops will train you, having more of a formal training I was able to tell my perspective employer "this is what I can do", and not have to ask "how do I do this". I've worked for a shop in York PA for about a year and a half.
Julie – Graduate – Currently the Head Designer for a florist in Dayton, Ohio
The course was very interesting and informative. I had a great time and made new friends. Very friendly atmosphere. Instructors did a fantastic job!
Kimberly
The course was very interesting and informative. I had a great time and made new friends. Very friendly atmosphere. Instructors did a fantastic job!
Jack – Graduate – Owner, Deal's Flowers in Beavercreek, Ohio
This course gave me the basic skills and encouragement needed to operate my business successfully. Thanks!